Escape From H1-MA Station
14/02/2020 Bug fixed & Update (ver 1.0.1)
---
Heya! It's been few days since we released our game for My First Game Jam: Winter 2020. Many wonderful people have played it and gave us feedbacks which noticed us about few bugs in the jam version. This update will talk about bugs we found and fixed!
🐞 Fixed Bugs in this Update (ver 1.0.1) 🐞
Players will be stuck in a Message Loop after receiving Daily Announcement Messages (Rent Payment on day 9, 16, 23, and 30 & Rogue Breeze on day 11) - The loop can be bypassed by Reading the message with Cancel button [X] ✅ Now Fixed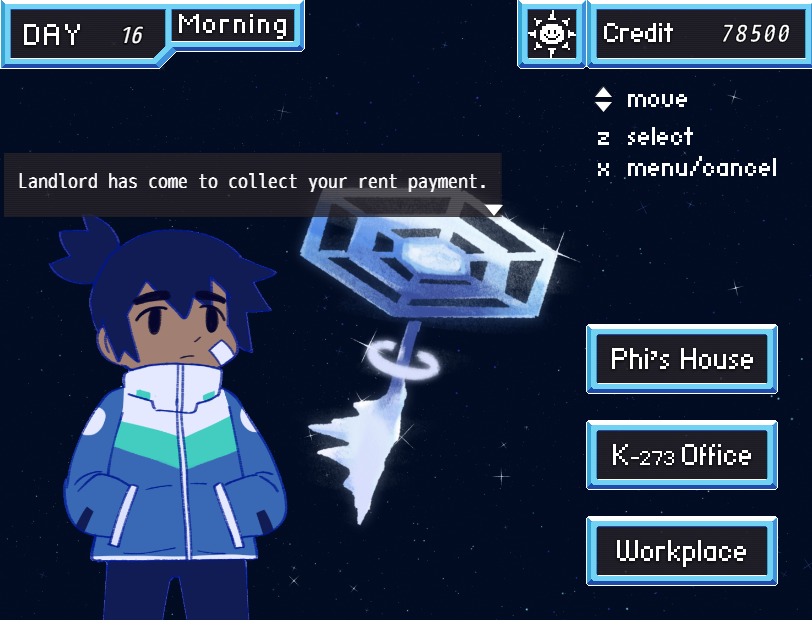 Why did I die before day 31? I already paid rents!

Player might die from the coldness, if they forget to regularly maintain their Heater.
Heater will stop working in 3 days (after Day-11 announcement about the rogue breezes) if it does not receive any maintenance.
Player can check their Heater's condition and maintain it from the Craft menu at Phi's House.
Full maint. will extend the life of the Heater for 3 more days, and Small maint., for 1 more day.
✅ More explanations about the Heater have been added to Day-11 announcement

Squish events encounter prevent player from accessing Phi's House
✅ Now Fixed - player can access Phi's House after encounter Squish events. (Please note that there are few changes for Squish encounter conditions.)
Thank you for reading and noticing us about the bugs! The game version 1.0.1 is ready for download!
Files
Escape From H1-MA Station Mac ver 1.0.1.zip
411 MB
Feb 14, 2020
Escape From H1-MA Station Windows ver 1.0.1.zip
277 MB
Feb 15, 2020
Get Escape From H1-MA Station